SALONDORANJU Biography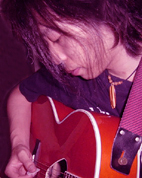 He started to play the classic guitar at the age of 12. After receiving some lessons,he began music activity in a band. After giving some live performances and entering music contests, he received training in music theory, composing and arrangement under the guidance of jazz pianist Sato Masahiko. In 1989, he joined Kokubu Hiroko's group as a guitarist and mainly performed on jazz sessions. he also did some work in live music and radio work through jazz festivals, NHK radio programs, and his own music unit. In the recent years, he has been involved in a wide range of music production including pops, song writing, composing, sound production and instruction. He has worked with such musicians as Kokubu Hiroko, Hino Motohiko, Kaneko Mari, Nakamura Yoshiro, Kobayashi Akiko, J. Scofield andmore. He is also well acquainted with creators and musicians of alternative music. "Salon D'Orange" is the name of a music unit he formed in 1998. And he change the name in 2007.The new name is "SALODNORANJU". The most recent CD release includes Quiet Will (Takero Ogata, Tom Musique /East Works Entertaiment Inc), Perpetual Motion (Takero Ogata Jazz Electrica)and Warp Factor 3/The Final Frontier (Computation album) by Kingkladze Records (Britain) Aru Haru No Koibito(Minuano/ POLYSTAR RECORDS....etc. After returning to Yamaguchi in 2000, he started a music school "salon d'Orange music society". While giving music lessons, he is engaged in music production and performance as well as in art and design production.
favorit Artist
Caetano Veloso Arto Lindsay Pierre Henry Kraftwerk  Pat Martino  Serge Gainsboug ‥
hobby
French Literature poetry  … 



another side of SALONDORANJU.
SALOD0NRANJU sound file  Offical blog twitter 
---
Home